I haven't done a favourites post in SO long which is a shame because I love making them and since I have some time off work/school, I thought I'd write one up. Let's get started!
My first favorite is the
Tarte Lip Surgence in "Energy"
. This has been one of the only lip colors I wore throughout July. It's supposed to adapt to every person's lips differently, but from what I've noticed it usually turns into a bright pink color. Really pretty!
Orly Bonder base coat is a-mazing. If you have trouble with nail polish chipping, I highly recommend this base coat because it seems to glue the nail polish to your nail and it makes it last much, much longer.
White nails have always been a staple for summer, and my all-time favorite one is OPI Alpine Snow. It does need 2-3 coats to get it opaque but once it's on, it stays on for days and the color is a great, crisp white.
My next favorite is this mini version of the Kiehl's "aromatic blend" in the scent Fig leaf & sage. I think it blends really well with my natural scent and I catch myself getting whiffs of it throughout the day so I know it lasts a while. It came in the above package with another 4 assorted minis.
Next I have an amazing neon/rose gold chain necklace from Persunmall that I got a little while back. It adds a pop of color to basically any outfit and I've found myself wearing it a lot.
My book favorite of the month is Mockingjay by Suzanne Collins. I was originally reading the Hunger Games series as Collins was releasing the books, but when Mockingjay was finally released, I read the first ten pages and was instantly confused because I couldn't remember what had happened in Catching Fire. BUT since the Catching Fire movie has been released, I thought I could finally read Mockingjay and understand it. I have to say I really liked it. I thought it was gripping and interesting to read, and it got me really pumped up for the movie which I believe comes out in November.
Annabelle Big Show mascara has been my favorite mascara not only for July, but for the past like, 6 months. I just think it's absolutely great. It reminds me of Benefit BadGal without the ridiculously huge brush.
EOS lip balms have always been a hit/miss for me, but I've found a way to love them. I think they work most effectively if you apply it consistently/every day. My lips have been super smooth lately and it's thanks to this! I keep one in my makeup drawer and one in my bag. My favorite is the green one (I think it's melon flavor?).
Marc Jacobs "Gatsby" is a really beautiful nail polish. It's a coppery-rose gold color and I think it's super unique and fun to wear.
I love wearing bright necklaces in the summer (and year-round too but mostly in the summer), and this is one I have loved for ages. I got it in 2009 at For Love 21 in Los Angeles and have worn it non-stop since. It makes any outfit instantly more exciting.
My favourite summer blush (and it has been for many summers prior) is Mac Pinch 'o' Peach. It's a peachy pink blush that I find really flattering and I would recommend it for anyone with a light-medium skintone.
Because I'm such a sucker for iPhone games, I have to admit that my favorite app of the month is Kim Kardashian Hollywood. It's just so much fun!!! I love any kind of Sims-esque game, and all you have to do is complete photoshoots and other career opportunities in order to gain fans. Above is an event I'm working on at the moment, and you might notice my arch nemesis Willow Pape is there (ugh).
My number one television show of the month is hands down Orphan Black. It's a sci-fi thriller which admittedly is not my favorite genre, but it's just. so. good. All the friends I've made watch it have loved it as well. It keeps you on your toes, and the main actress Tatiana Maslany is brilliant. There are two seasons out already and you can find them online and on Norway Netflix. If you start it, be sure to watch all the way until the final episode of season 2 because your mind will be blown.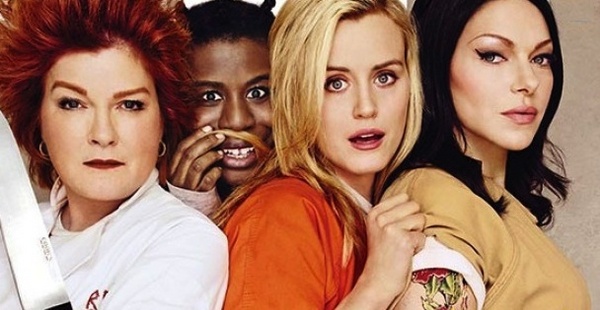 Of course, Orange is the New Black season 2 came out on Netflix and you know I loved it. I thought it was just as great as the first season and I can't wait for season 3. I'm really pleased with Piper's character development because it seems as though she's becoming less flippant and more well-rounded (or is it just me?). Anyway, love it.
That concludes my July favorites! Let me know in the comments what you've been loving :)